You will see your Training Guide access email in your inbox soon.
VERY IMPORTANT: Keep reading below…
We have a very special resource recommendation that we think would be perfect for you and your Rottie...
It's the perfect companion to your Rottweiler Training Essentials guide.
Training a Rottweiler takes hard work AND you have to make sure you're getting all the right information!

When you're just a beginner, starting to train a dog can be overwhelming BUT …

…there is a way to make your training journey much easier.

One of the best ways to learn (and an easy one!) is to watch other pro dog trainers work their magic with their dogs.

Seeing exactly how it's done either in-person — or on video — can give you the confidence you need to get the training results you really want!

Watching how a pro trainer works with their dog can be a really powerful way to learn!

While we always recommend finding a good Certified dog trainer in your area to help you — we know that's not always an option.

The next best thing is to start learning on your own and find good trainers to watch on video!

And we found just the trainer for you!

Remember, you can never learn too much about dog training.

There are so many things to learn and it really is a life long process BUT…

… ONE thing is true…

… the work you do at the beginning of your dog training journey and what you learn RIGHT NOW can make ALL the difference in the world.

So …
Introducing Brain Training for Dogs and Einstein the Rottweiler!
A video course taught by a CPDT-KA Certified dog trainer who owns Rottweilers that shows you some really cool ways to unlock your Rottweiler's natural intelligence.

All while creating a solid foundation to help your Rottie learn faster, be more engaged and ultimately become the well behaved Rottweiler of your dreams!

She even shows how to do it all with her very own Rottweiler! This is a chance to learn from a Certified dog trainer that raised two amazing Rotties!

Einstein just might be the smartest Rottie on the internet! :)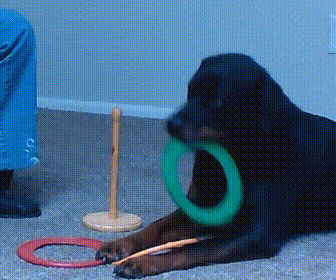 In the training videos, you'll see how to connect with your Rottweiler in a really powerful way and also teach them cool tricks along the way like:

… all while mentally stimulating them in a way that creates a really deep connection between you and your Rottie!

Creating this mental stimulation in your Rottweiler can lead to incredible results in other areas of your training. It's not just about learning a cool trick!

You'll learn very interesting techniques to keep your dog stimulated, have fun, and as a bonus be able to show off some cool tricks to your friends and family!

Check it out and start getting some amazing results with your Rottie!

Plus you get access to amazing bonus learning resources!
Not only do you get the Brain Training course you also get access to:

A forum to

ask any questions you have

and

get answers directly from the trainer

! This an amazing bonus.




Obedience 101 mini-course

Polishing Up Your Training mini-course

A huge article library filled with even more information on puppy training and behavioral issues you may be experiencing.


Plus even more…
Start learning from one of the best Rottweiler trainers you can learn from!